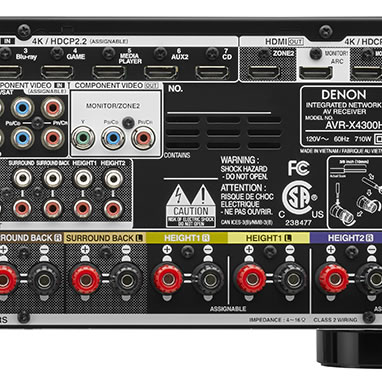 Many stereo receivers/amplifiers on the market today feature a second zone for audio output for use with a pair of speakers located in a different area like a patio or bedroom.
What is not always as obvious is getting your electronics components (Bluray, cable box, etc) to output audio signals to this second zone.
When connecting speakers from a second zone to your amplifier, there are a couple of considerations to bear in mind to ensure you get the most out of your multi-zone amp.  For starters, ensure the second zone is active.  This is typically done during the "Automated Setup" with today's amps, or you can go into the Speaker Setup menu section for most amps and be sure Zone 2 is selected.  With most 7.1 and 9.1 channel amps, running a second audio zone will only allow for a 5.1 speaker configuration in the Main Zone.
Next, connect your speaker cables to the Zone 2 / Assignable inputs on the back of the amplifier.  Depending on the model of your receiver, they will either be labeled Zone 2 or Assignable.  Some older receivers may label them as Speaker B.
While you have the amp accessible, verify your video and audio sources are properly connected.  This leads us to discuss one of the most confusing aspects of multi-zone audio.  Depending on your amp, you may only be able to hear audio from sources that have an analog connection, typically indicated by the red/white RCA cables.  So, if you want to listen to Sonos or your DirecTV receiver (for example) in Zone 2, be sure these devices are connected via digital cable (SP/DIF and HDMI respectively) for your Main Zone and the analog cables for Zone 2.  This also may require a change to the Inputs section of the menu, which should be highlighted via the user manual for your amp.
If you are spending $1000 or more on an amplifier, it is very likely that it will support digital signals for Zone 2 output, meaning fewer cables to connect.  But a good rule of thumb is, if you cannot hear audio from a selected source for Zone 2, you may have to connect it with an analog cable which is readily available from Amazon or The Home Depot.
Hopefully that helps shed some light on the nuances of enjoying audio in Zone 2 with your multi-zone amplifier.  Thanks for reading!